Speaker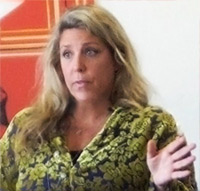 Jennifer Rosenwald helps individuals and businesses succeed. She is a former Fortune 500 Managing Director, award winning Trainer, Business and Life Coach, and now Bestselling Author. Being appointed to Fortune magazine's "100 Best Companies to Work for" selection committee, and then researching the science behind those accomplishments, taught her that a healthy, happy, charitable perspective drives success, no matter what you're doing. 
Her customized programs, including, "Right-Thinking for Positive Leadership, of Others and Self" and "3D Formula for Success and Satisfaction: Desire, Decide, Do" focus on tools, tips and tactics that help you get what you want: better results and a better experience of those results.
AUTHOR

"Great workshop today. I have [been] and am still working hard to better my business and life. Your examples are right on."

SPEAKER

"I realized there were many more positive things I could be doing, to help myself and people I work with...and for just plain life! Thank you!"

BUSINESS & LIFE COACH

"I loved your presentation. Lot's of great take-aways. Thank you. I am eagerly awaiting your book."

"I enjoyed your talk tremendously! I left with an extra bounce in my step!"
As seen in: